What are Participants and Company Representatives Saying about English That Works Programs?

"Thanks so much for the assistance over the past months at improving my pronunciation skills. I sincerely appreciate your efforts and, believe me, it's already paying off. I know that I now communicate much more clearly based on the feedback I receive from my colleagues. I also feel much more confident at expressing my thoughts in group meetings." IT Professional - pharmaceuticals

"I meant to send you a "THANK YOU" note right after my last session. I believe this was the most effective training class I have attended during my career (16 years). What I have learned during the one on one tutoring sessions is far more than what I can gain from any other classroom setting. " Principal Investigator - pharmaceuticals

"I got excellent insight into the American way of communication. Thank you for an excellent training, for keeping it lively and interesting." Senior Consultant -IT Security software consulting

"This is the comment I got from my lead. I thought I'd forward it to you and extend my thanks to you. 'Daniel, excellent job on the minutes. Your writing is coming along very well. Your teacher would be proud. Good job!!.' " Engineer – document management

"The presentation went very well. I received good feedback. The skills from your course are excellent. I like one of your slides a lot. 'When you learn a skill, you develop awareness. As you practice that skill, you develop mastery.' I cannot say it better, but I will keep practicing." Senior Research Investigator - pharmaceuticals

"I wanted to tell you again how much I enjoyed the English pronunciation classes. You made it so much fun! Just becoming aware of my 'fossilized' speech patterns and mispronunciations (and of the correct way) made an enormous difference for me. Even in this short time, I was able to modify the way I speak, and I have noticed that it made understanding me much easier. I am extremely grateful for the opportunity to be part of that class." Information Systems Engineer - financial services

"I'm constantly using the skills I learned from your class. They are so helpful and I feel more confident to handle different types of situations now." Associate Director, Immunology - Global Epidemiology and Outcomes Research - pharmaceuticals

"I'm glad that some of the Sales Consultants are calling with a recommendation saying there is a lot of improvement in my speech, meaning they can understand me better than before. Thanks a lot for your effort." Computer Analyst - medical devices

"Thank you again for the great session on training culturally diverse participant groups. Most of the training group stayed into the afternoon and all were talking about what they had learned… "A." expressed again to me how much she felt she has learned from your coaching sessions- and how grateful she is for your help and recommendations." Vice President of Training and Development - employers' association

"I'd like to take this opportunity to thank Judy for her teaching and advice. All the lectures, exercises and notes are excellent. I'll continue to apply what I learn in my daily work. And I'll recommend the class to our Asian network." Sr. Research Fellow-pharmaceuticals

"I was trained in professional email writing, phone conversation, pronunciation, culture, and others. It worked greatly. I'm more confident and proactive in the workplace." Senior Statistical Programmer - consumer and personal products

"I will never forget your English classes which were so lively and interesting, informative and useful, impressed me deeply, and helped me immensely. Many of my colleagues speak highly of my improvement." Administrator - financial services

"I already benefited so much from your (Speaking Solutions) course. My experience is one word "RISK." In the past 3 months, I risked myself everywhere, from supermarket to meetings with VPs. I just coordinated a technical seminar given by a vendor this morning. It was terrific! I considered it as another public speaking practice in front of 20-30 folks from different departments. Now I am able to express my point of view timely during a meeting with self-confidence. I will surely continue my RISK." Sr. Research Investigator- pharmaceuticals

"You helped me to identify my weakness and find the solutions to help me to improve my communication skills. The way you coach, your professionalism, your incredible language skill, your quick thinking all impress me very much. I do feel that I got more than I expected." Technical Project Lead - pharmaceuticals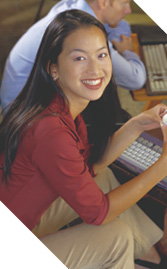 "I'm more confident and proactive in the workplace."
To better meet the needs of new and existing clients, We now offer:
Distance Coaching
No-cost Lunch n Learn sessions for multicultural businesses and organizations
Appointment space in NJ and PA
» Click for more details
Links
» Success Stories
eNewsletter Sign-up
Enhance your skills!
Discover new resources!
Sign-up today!