Consider the following questions:
Do you have employees who you would like to promote but whose English language skills need further development?
Would you like to see your multinational employees take more initiative, be more assertive, and contribute more in meetings and group discussions?
Are employees' documents clear, well-focused, and written in a style that reflects company standards?
Would clearer pronunciation or a more understandable American English accent enhance the credibility of certain employees?
Are there product quality, safety, or interpersonal issues that are affected by language or cross-cultural understanding?
In our discussions with Human Resource Directors and supervisors, we often hear these concerns. Additionally, many company representatives feel that existing training for native speakers does not address the specific communication and cross-cultural needs of employees who speak English as their second language.

Custom-designed Goal-focused Training
Here is our process:
Determine with you the specific business communication skills and insights essential for job success and the employees who would most benefit from training or coaching
Conduct oral and written assessments and interviews
Design a curriculum that emphasizes the critical language and cultural awareness skills that we have agreed will positively affect your employees' performance and self confidence
Deliver a dynamic and practical group training program or series of coaching sessions
Maintain an ongoing dialogue with participants, supervisors, and management to modify training/coaching content as needed
Assist you to determine your training return on investment
Discover the English That Works programs and services that will benefit your organization by clicking on Assessment, Training, and Coaching.

You may also want to read the Success Stories and Testimonials from some of our multinational participants.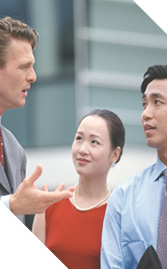 Help your employees improve their:
American English Pronunciation
Assertiveness
Business English Vocabulary
Conversation and Speaking Skills
Interpersonal Relationships
Meeting Leadership
Presentation Skills
Professional Visibility & Credibility
Writing Skills
Links
» Testimonials

» Success Stories
eNewsletter Sign-up
Enhance your skills!
Discover new resources!
Sign-up today!